For many countries, New Year's Eve is the most important holiday. It represents a new start, a chance to reflect on our lives at the end of a trip around the sun, before beginning another. Australians love celebrating the New Year just as much as everyone else!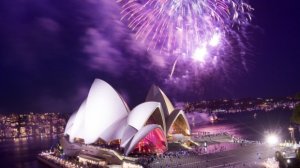 In almost every area in Australia, whether it is a city or a rural town, there is an exciting way nearby to celebrate the New Year. If you are an Australian who lives in a rural place, chances are you will meet up with a few of your friends on New Year's Eve for a barbecue, bring some beer, and stay up until midnight. When the clock strikes "12:00" you'll just make a lot of noise — bang on pots and pans, sound alarms, sing song, or run around your neighbourhood to welcome the New Year. Fireworks are illegal for individual use in Australia. Even so, you might still see a few rebels lighting them up in parks or anywhere far from buildings.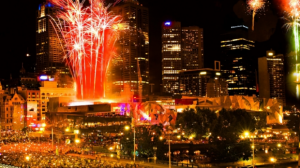 In the cities, there are always exciting New Year's Eve events to attend. If in Sydney, be sure to catch the sparkling fireworks display by the Opera House. On the Gold Coast, there are more than 30,000 fireworks set off in time with music during the annual lights display. Melbourne's fireworks festival is held on the banks of the Yarra River and has a "carnival theme" — rides, musicians, and entertainers of all sorts are there for the celebration of the new year. All the way over in Western Australia, Perth has a yearly street party, where thousands of families gather to enjoy watching street performers, outdoor movies, and the best indie and rock bands. No matter the city, everyone is excited to eat and celebrate with loved ones as they welcome the New Year!