Melbourne is a great place to visit Churches. There are roughly 1230 registered churches in the city, which is only topped by Sydney which has around 1740. Some of them are amazing buildings with interesting architectures and histories. Of course, some of them are tiny buildings that look more like a local club house. I will introduce three of the older, bigger and more famous churches: Saint Paul's Cathedral, Saint Patrick's Cathedral and Saint Francis' Church.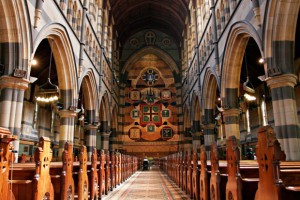 St Paul's is an Anglican Cathedral and is currently the seat of the Primate of Australia, who is the highest ranking Anglican in the country. When it's central spire was complete in 1932 it was the tallest building in Melbourne – hard to imagine now, as it is surrounded by so many huge skyscrapers.
St Patricks Cathedral (full name: Cathedral Church and Minor Basilica of Saint Patrick) is of the Roman Catholic denomination and is both the tallest and largest church building in Australia. When they decided to build the Cathedral in the 1840s, the Catholic population of Melbourne was almost entirely Irish, which is why it is dedicated to Saint Patrick, the patron saint of Ireland.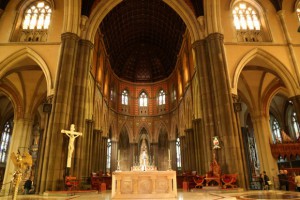 St Francis Church is the oldest Roman Catholic church in Victoria. Its foundation stone was laid in 1841. It was an official cathedral from 1848 to 1868 until that title was taken by St Patrick's Cathedral, and now it is considered only a church. Today it is the busiest church in Australia, with more than 10,000 worshippers attending each week.