What are some famous Australian snacks?
Well, there are four that I'd like to tell you about: Minties, Caramello Koalas
Tim Tams and Milo. These four foods were all originally developed first in Australia.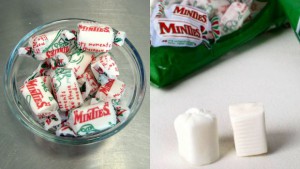 Minties
Minties are a hard, white and chewy, rectangular, mint-flavoured lolly*, which on chewing becomes very sticky. They are notorious for causing fillings to come out of peoples' mouths – which reminds me a bit of the dangers of eating Japanese Mochi. Minties were invented back in 1922, and are popular in both Australia and New Zealand.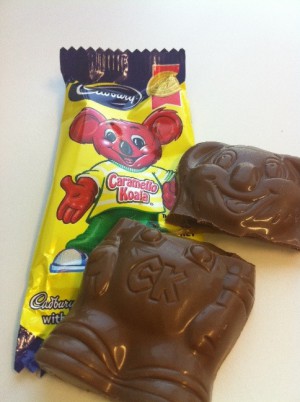 Caramello Koalas
Caramello Koalas are a brand of chocolate bar manufactured by Cadbury Australia. They consist of a chocolate cartoon koala (named "George") with a caramel centre. Caramello Koalas were introduced in Australia as the Caramello Bear in 1966. They are said to be the first mass-marketed snack to be modelled on an Australian animal.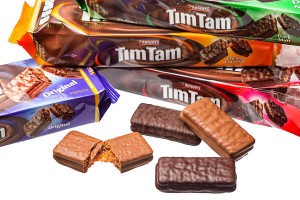 Tim Tams
Tim Tams are a type of chocolate biscuit made by the Australian biscuit company Arnott's. They are made with two malted biscuits separated by a light chocolate cream filling and coated in a thin layer of chocolate. Tim Tams went on to the market in 1964. They were named by Ross Arnott, who attended the 1958 Kentucky Derby and decided that the name of the winning horse, "Tim Tam", was perfect for a planned new line of biscuits. These days Tim Tams come in many different flavours, including dark chocolate, white chocolate, caramel, dark chocolate mint, honeycomb and choc orange.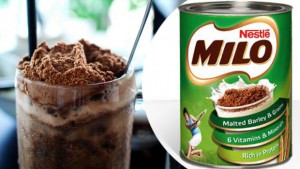 Milo
Milo is a chocolate and malt powder that is usually mixed with hot water and milk. It is popular mainly in Oceania, South America, South-east Asia and certain parts of Africa. It was originally developed by Australian inventor Thomas Mayne in 1934. The ingredients and drinking styles are actually slightly different in different countries. Milo is also sometimes sprinkled on ice cream or on breakfast cereals and some people even eat it straight out of the tin!
*Lolly = candy (in North American English)